Competence – Breed Talking
Short info about your contact, Annelie Feder:
25 years ago I fell in love with the Eurasier and can now look back on more than 20 years of experience in breeding this marvellous breed. Four very different bitches taught me that matings proposed by humans are not always accepted by the bitches. It seems that they can detect from the 'smell of the genes' of the stud dog whether he carries the matching genetic complement for the offspring. I always accepted my dogs' decisions, as it is important for me that the normal reproductive behaviour will be preserved, as this is one of the strengths of the Eurasier.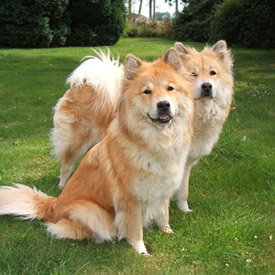 My Eurasier Ipsy and her daughter Minou
In the meantime, I have raised 18 litters and they have all taught me not only about pregnancy and birth, but also about the interaction between bitches and puppies. I have always enjoyed taking notes of all my experiences, and have organized projects together with other breeders, as well as edited the book "Eurasier-heute".
Over the last 20 years the main focus in breeding has changed a lot. When I started breeding, internal organ and eye pathology were carefully monitored, which I also considered important at that time. Pigmentation became the next focus and my second bitch, Aika vom Casa Cornetto, called Joy, was sold to me by her owner because her nose partly lacked pigmentation. When it became clear that a correct gait and a lovely character are more important than a black nose, Joy won one cup after another. Over time, teeth became very important and a loss of P4 meant a breeding ban for that dog. Luckily, my kennel was not affected. So, what is important for breeding today? Pigmentation? Black nails? Undoubtedly, it is desirable that the dogs show these features, but for most puppy buyers other criteria are more important: longevity, the adorable Eurasier-type character, substantial body and of course, good health. These are the criteria I focus on in my kennel "von der kleinen Blaike".

I am always happy to pass on my experiences.