Competence – Eurasier International
Short info about your contact, Helga Casper:
In 1976 I had the first contact with a Eurasier and owned my first bitch 1978. Now the third "Youngster", presently 14 months, is living with us – again a bitch.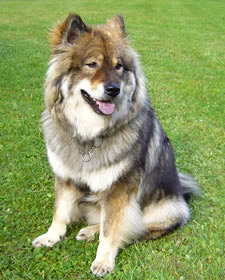 My Eurasier Yaiza
I had two litters under the kennel name "vom Tor zur Welt". For 28 years I maintained the stud book for Eurasiers (ZUCHTBUCH FÜR EURASIER).
About eight years ago, the Eurasier, originally bred in Germany, started its "world tour", when we got an enquiry from Canada for one or even two puppies. At that point, the French breeders were more willing to sell their puppies to USA and Canada. So, I started to investigate all export conditions and talked to our breeders, with the result that in the meantime17 puppies were picked up from German breeders by their new American or Canadian owners, or they flew with us when we travelled to Canada/USA.
When we had an enquiry from the United Kingdom for a Eurasier bitch to help the breed on its way in that country, I could also persuade a breeder to raise the puppy for the necessary 10 months prior to import.
On several trips I visited American and Canadian breeders, attended meetings and gatherings, and developed quite a number of personal friendships.