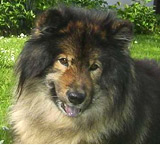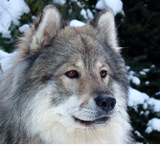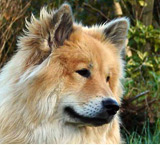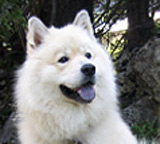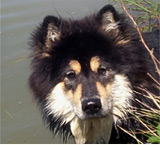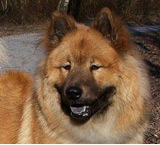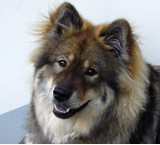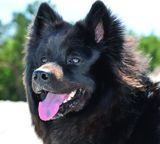 Colours of the Eurasiers
The colour variety of our Eurasiers or Germany's next Top Model!!!
The breed standard of the Eurasiers allows "different colour varieties". In the meantime a multi coloured mix from fawn to grey via red until black exists. No other breed shows such a variety of colours. On the various Eurasier walks and other events one can admire this colour variety. I suddenly think whether the grey one is better for me or the black and tan? My female is red-fawn. When we first met a Eurasier, it was a red one and I think this first impression "imprinted" us. We wanted even such a terrific dog!!!
In the meantime I can say for me personally that the colour is not important. We became enthusiastic Eurasier fans. If one has decided to adopt a puppy for the family, mostly there are desires concerning the colour. We noted this during the time we raised 2 litters of Eurasier puppies.
One can only give a tendency for the colour the little puppy will get lateron. Only for black and black and tan one can definitely confirm the colour. But what will happen if the colour imagination of the puppy buyer will not be fulfilled? The puppy is not developing the way we wanted? It's for sure that a fawn coloured puppy will not change into black during one night. And even the grey one will not become a red Eurasier. Or a good hairdresser has helped out.
I tell my puppy buyers that the Eurasier is a real surprise packet concerning his colour. This puppy who will be adopted by his new family is and stays the same beloved dog. The colour doesn't matter. The same way our Eurasiers are adapting to us, the human should adapt to them, and then the colour is not important. I never heard that a Eurasier was changed into another one because of his colour. Our Eurasiers are for us Germany's next Top Model! Everyone is different, unique and the most beautiful one!

The color of our Eurasiers, you can read,
if you move the mouse pointer on a Eurasierphoto.