Children need animals
"Mummy, I wish to get a dog."
All began with this sentence and changed the whole family life. Books were looked through, owner of dogs were consulted, daddy was convinced and sometime later a litte woolen bundle on four feet came into the house and whirled through the family.
So it happened with me more than twenty years ago and it will also happen with you like that, if you decide to take a puppy of your own for the first time.
Children love animals.
What do children appreciate in connection with their dogs?
According to a study of Reinhold Bergler they feel as follows:
98% - When I come home from school, my dog is happy and welcomes me.
96% - I enjoy very much playing with my dog.
95% - Together with my dog I always have many beautiful and funny events.
95% - I am always happy with my dog, and he is it with me.
87% - I can tell everything to my dog.
86% - My dog is always present for me.
84% - If my dog is with me, I never feel lonely or alone.
81% - My dog always listen to me.
77% - A dog can never be as angry as a human being.
76% - If my dog is with me, I feel sure and I am not afraid.
74% - My dog calms me, if I am sad or have problems.
70% - Together with my dog I feel strong.
70% - My dog better understands me than many a grown-up.
62% - My dog is my best friend.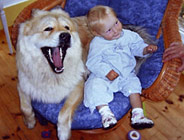 It is a great luck for the children to grow-up together with a dog. But a dog is no toy, and the ideal dog for children does not exist. Therefore the parents are responsible for a harmonic living together. They must teach the children to recognize any risks correctly and have to train the dog.
Our competence team is gladly prepared to give you any required

assistance.